Two Ways To Become A Member
It is the same amazing bargain no matter how you spin it.

Pay all at once or a little each month.
1.
Pay $10 Monthly
Monthly payments through PayPal via Ko-Fi (pronounced Coffee). Get it? For the price of a coffee or two each month, you get us for a year!

We are excited for this new platform and we plan to bring our you lots of extra perks through this site.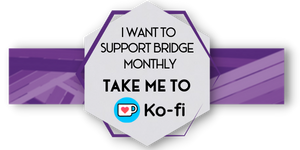 Be A Rainbow Unicorn for just $10/mo!
It is an important year for The Bridge Initiative and it is your chance to be a creature of legendary importance
We believe the arts are vital and female leadership in the space is critical
The arts reflect the lived experiences of the people in our community. But to inspire the kind of dialogue we want, we have to build a sustainable organization. To that end…
Bridge is excited to launch our first membership program.
This is a major step in the life of an intrepid little organization that is already proud of the conversations we have sparked and issues we have examined through theater and live events. But we want to do more and ensure we go on, continuing to make waves for the foreseeable future. We know memberships are a critical part of our plan for sustainability. Sure, they offer income we can plan on, but more than that they represent buy-in to our mission and values. And there is magic in that. That is why we are calling everyone who becomes a Bridge Member in our first year a RAINBOW UNICORN.
Rainbow Unicorns are those that step-up as our first members ever
We know this first year will set a tone and pace for our membership efforts in the future. As a Rainbow Unicorn you will be paving the way for more to follow. This means you are elite and magical and more than likely you have a beautiful, sparkly rainbow mane. It also means you believe in the power of conversation and community. So we are going all out for those who join us as Rainbow Unicorns because we know having your person is more valuable to us than your money.
Oh you will get the normal perks of being a member of a theatre
For us that means 4 TIX to Broadway Curious and 1 to our Spring Production. But just for you, we are throwing in an additional ticket to our Spring Production so you can treat a friend to The Bridge Initiative. And we hope you will bring many friends, so we are offering all kinds of extra perks for being part of our inaugural members cohort.
Thank you for making the future of Bridge possible.
What You Pay
What You Get
4 Tickets to Broadway Curious
Use them however you want. We will have a ticket waiting for you at each Broadway Curious event this season, but if you can't make one use two tickets for two events, four tickets for one event…you get the idea. Check out this seasons's lineup


2 Tickets to our SPRING PRODUCTION
Because you are a member in our first year we are giving you an extra ticket to our spring production. You are our best ambassador, so bring someone you like…better yet….bring someone that will like us!


Access to Artists Talks, Events, & Content
Throughout the year we will be engaging artists in conversation, both live and digitally. And you get exclusive access.


Easy Ticket Exchange
Just email us if you need to change your tickets. We got you


Exclusive Discounts
Bring friends, family and future Bridge Members with you, as many as you want, and pay the reduced Member rate.
Save $60
over single tickets
and you get to be a
Rainbow Unicorn…
how do we do it!